Craving a creamy, sweet coffee to heat you up this winter but don't want to make the journey to a coffee shop? This delicious caramel latte recipe is perfect for chilly mornings and easy to make at home! You only need caramel syrup or sauce, hot foamed milk, and espresso.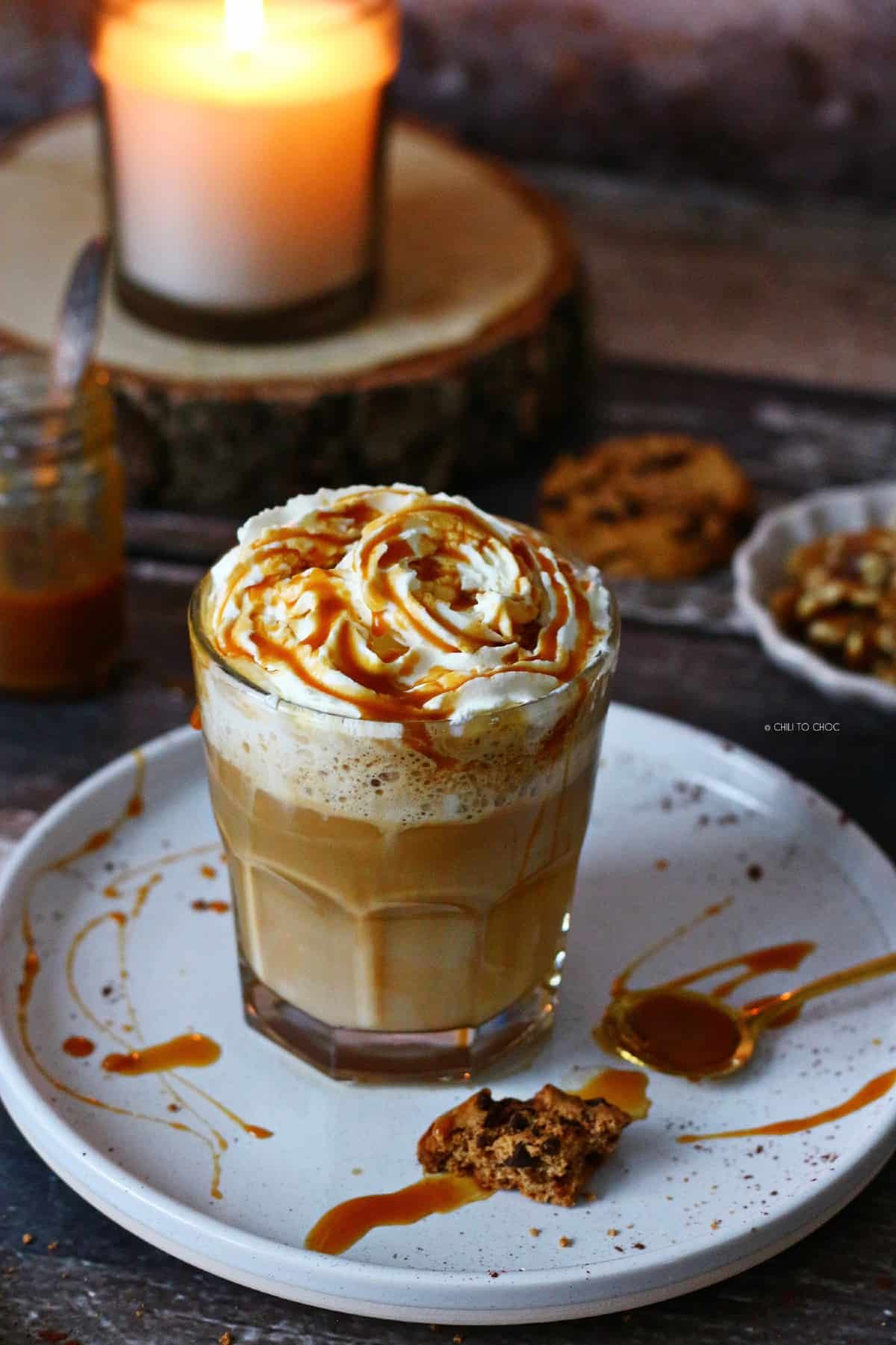 Give the Starbucks caramel latte a run for its money with this rich, frothy caramel latte recipe that comes together in just a few simple steps.
And while we are at it, maybe my Starbucks Chai Tea Latte Copycat recipe might interest you too?!
Traditionally, a latte combines steamed milk and espresso and is the perfect drink to flex your creative muscles. However, by adding caramel, you will have such a smooth, creamy, and dreamy drink it'll be hard to stop at just one.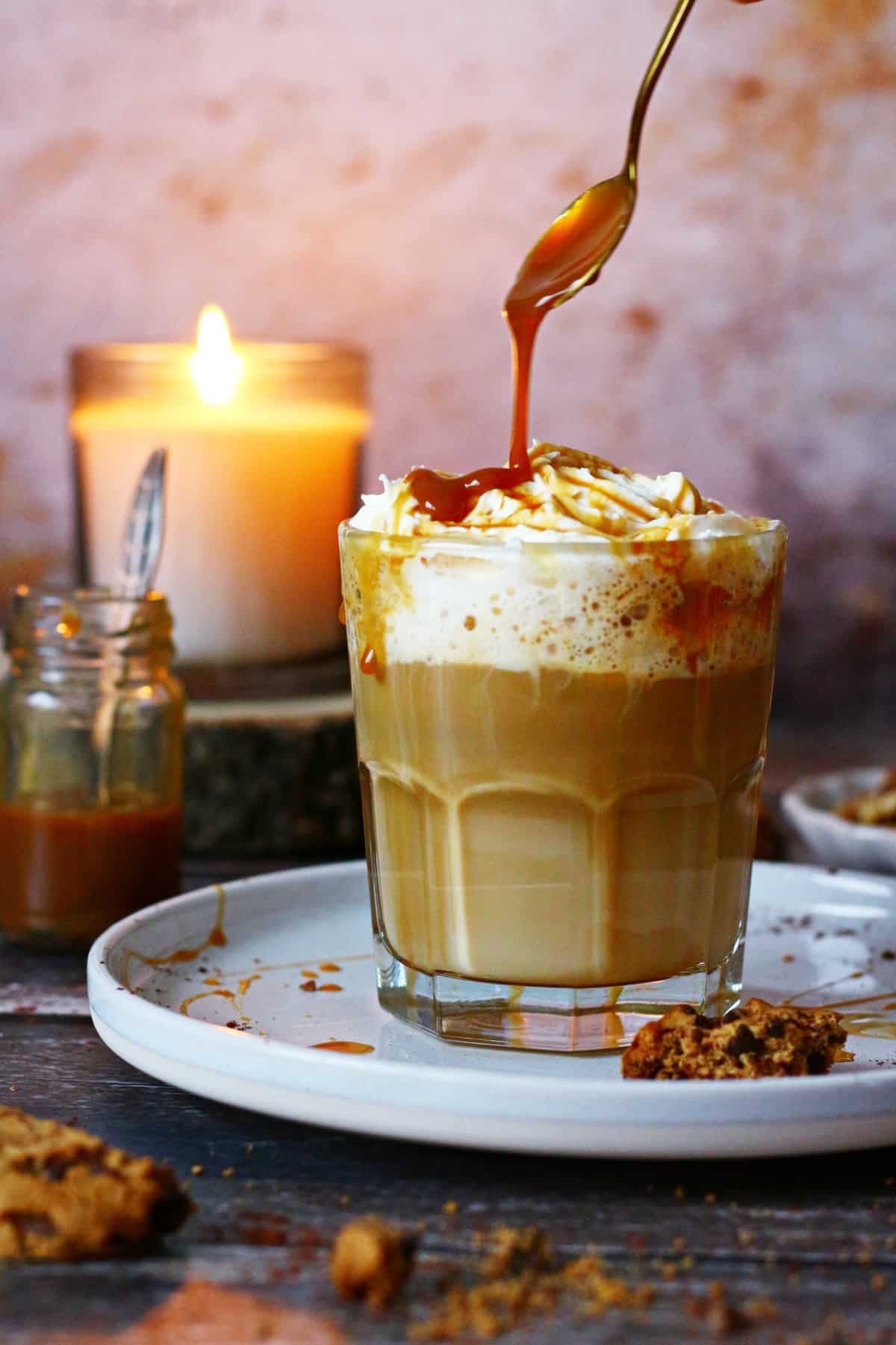 Customize it however you like, with extra caramel to make it sweeter or another shot of espresso for a strong coffee flavor.
With this recipe, you can enjoy the perfect caramel latte any day. Even if you don't have an espresso machine, you can still make easy caramel lattes at home.
Table of Content
Ingredients and Substitutions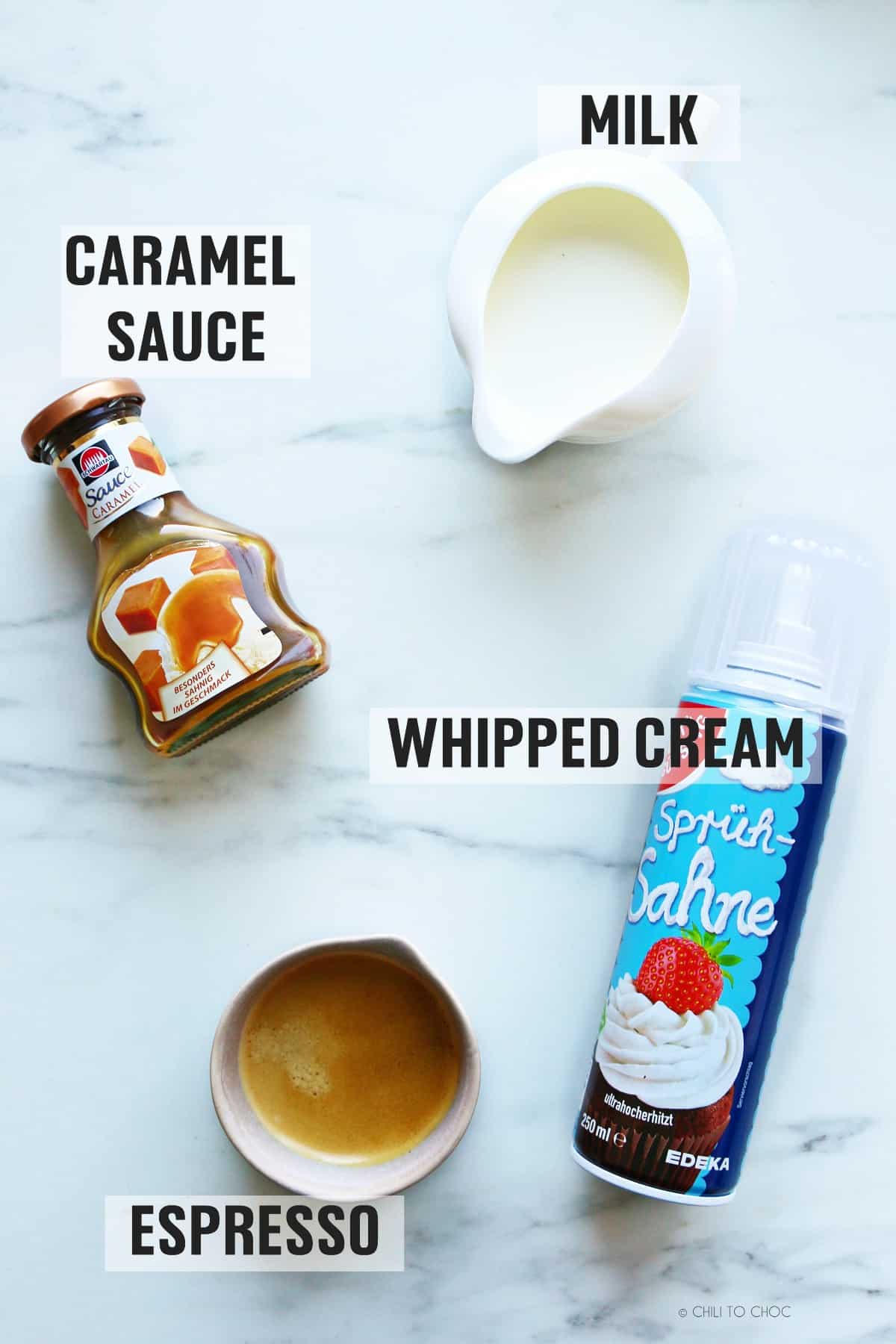 Caramel - there are two types of caramel. I prefer the caramel sauce, which is thicker and results in a more decadent drink. You can also use caramel syrups and homemade caramel.
Milk - Whole cow milk will create a creamier latte. You can also use low-fat or non-dairy milk.
Espresso - I pulled an espresso shot from my Nespresso machine which is perfect for an easy caramel latte. Read below for different types of espressos you can brew.
Whipped Cream - I use an aerosol cream (also called squirty cream). The whipped cream comes in a can and is perfect for topping drinks. You can also add a dollop of store-bought or homemade whipped cream.
See recipe card for quantities.
How To Make a Caramel Latte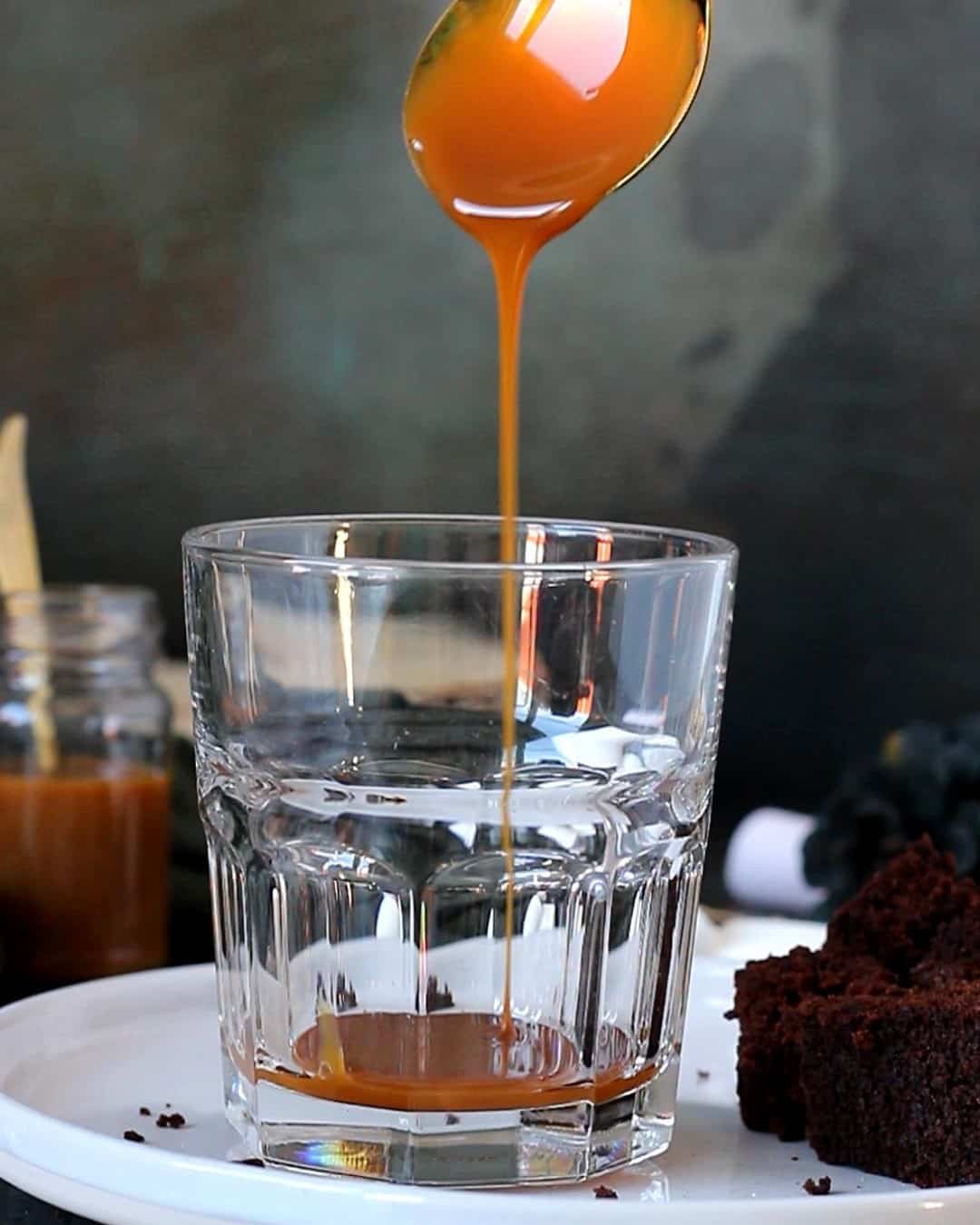 In a glass, add the caramel sauce or syrup. You can also add additional sugar if you prefer your drinks sweeter.
Heat milk in the microwave and froth it till foam forms. Pour over caramel.
Prepare your expresso. I pulled a shot in my Nespresso machine. Add it to the glass.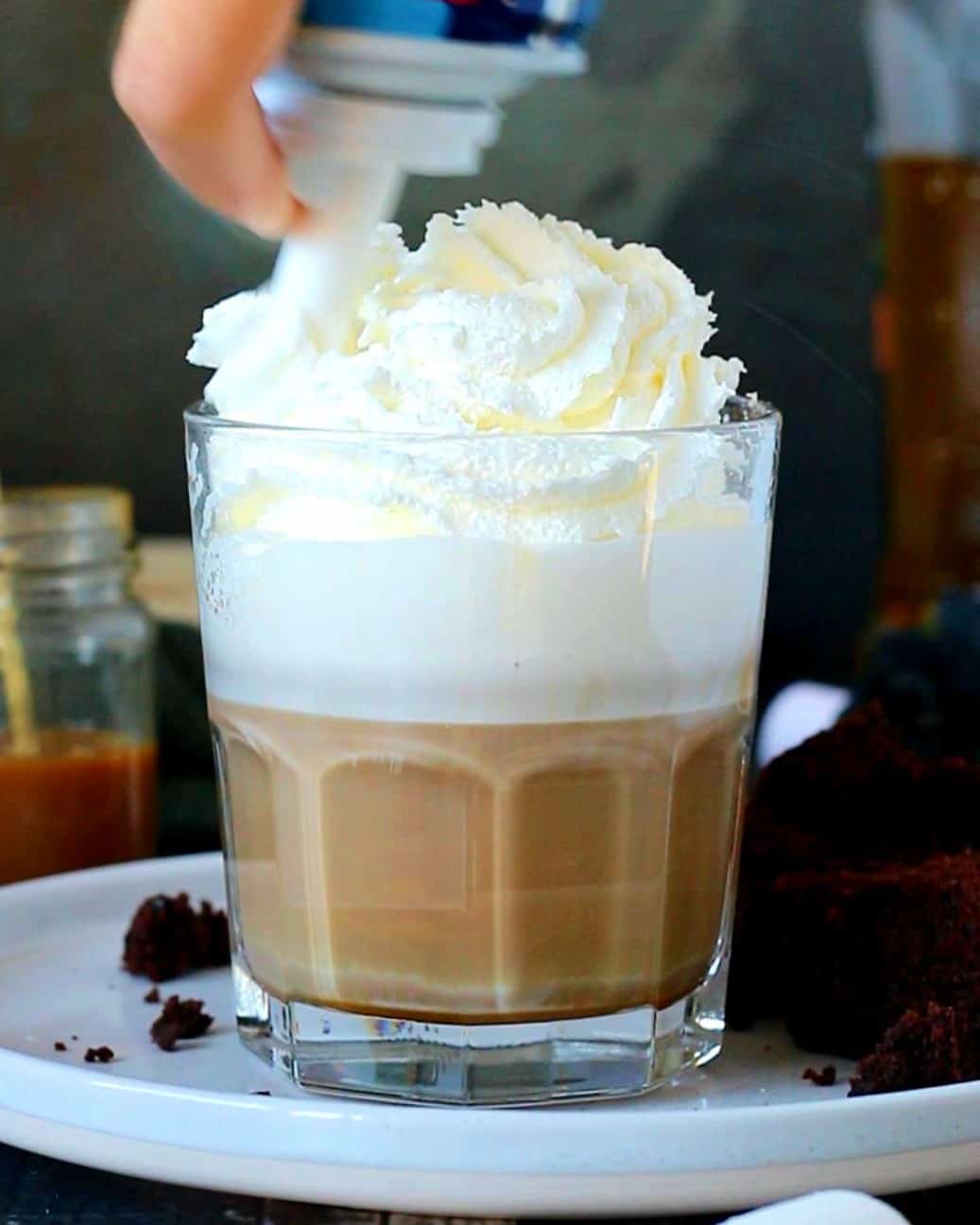 Top with whipped cream and caramel drizzle. Serve hot!
Different Ways To Prepare Espresso
An espresso machine is the way lattes are prepared in most coffee shops. But if you don't have one at home, don't worry! Here are multiple ways you can make yourself this yummy caramel drink:
Coffee Pod Machine - I used my Nespresso machine, which works great, is a little easier than a traditional espresso machine, and makes clean-up a breeze. Of course, you can also use other pod espresso machines, whichever you like the best.
Traditional Espresso Machine - This is the most complex way to prepare espresso and how they make a caramel latte at your local coffee shop. Be sure to use an espresso roast coffee, and time how long it takes for the espresso to drip into your cup. The perfect espresso draw is 20-30 seconds.
Brewed Strong Coffee - One of the easiest and most accessible ways to make a caramel latte. When you brew your strong coffee, use less water than usual, then add your desired amount to the milk and caramel mixture. If you don't use all of the brewed coffee, freeze it to make leftover coffee ice cubes. These are perfect for the iced version!
Macchinetta or "Moka" - Straight from Italy! Suppose you are on a budget or want to avoid splurging on an espresso machine. In that case, moka pots are the perfect route to a delicious coffee many great options are under $50.
Milk Frothing Methods
Milk Frother - One of the fastest ways to froth the milk for your caramel latte. You can use a manual or hand-held frother. Submerge your milk frother in heated milk until foamy. Electric milk jugs are also a great option to foam milk.
Mason Jar - Put your desired amount of milk in a mason jar or other microwave-safe cup and place it in a microwave without the lid. Heat your milk until hot and remove it from the microwave. Place the top on your cup and shake vigorously until your preferred frothiness.
Stove top and whisk - Heat your milk over medium heat on the stove until it gently bubbles. Remove from the heat and quickly whisk it until frothy.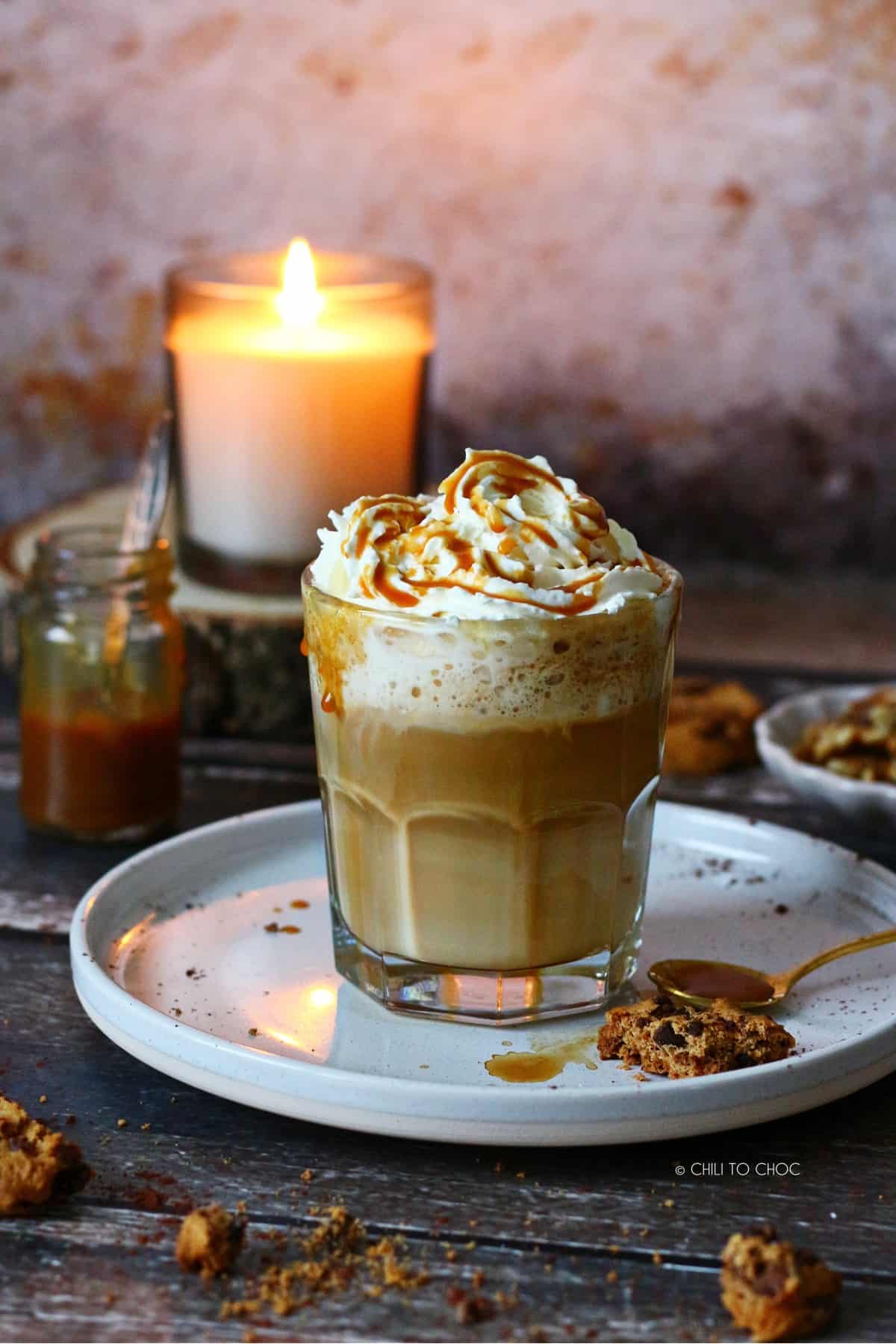 Expert Tips
To best froth the milk, heat it in a microwave till hot, not boiling. Use caution when simmering on the stovetop in a small saucepan. Pour in a mug and carefully froth it with your preferred method.
Whole milk makes the creamiest caramel latte.
Very gently mix in the caramel sauce with the foamed milk and espresso. Otherwise, you will ruin the layers of the latte.
Make this classic drink in a mason jar or glass mug so you can see the beautiful layers.
For the Starbucks caramel latte taste, buy their caramel syrup from your local Starbucks or supermarket.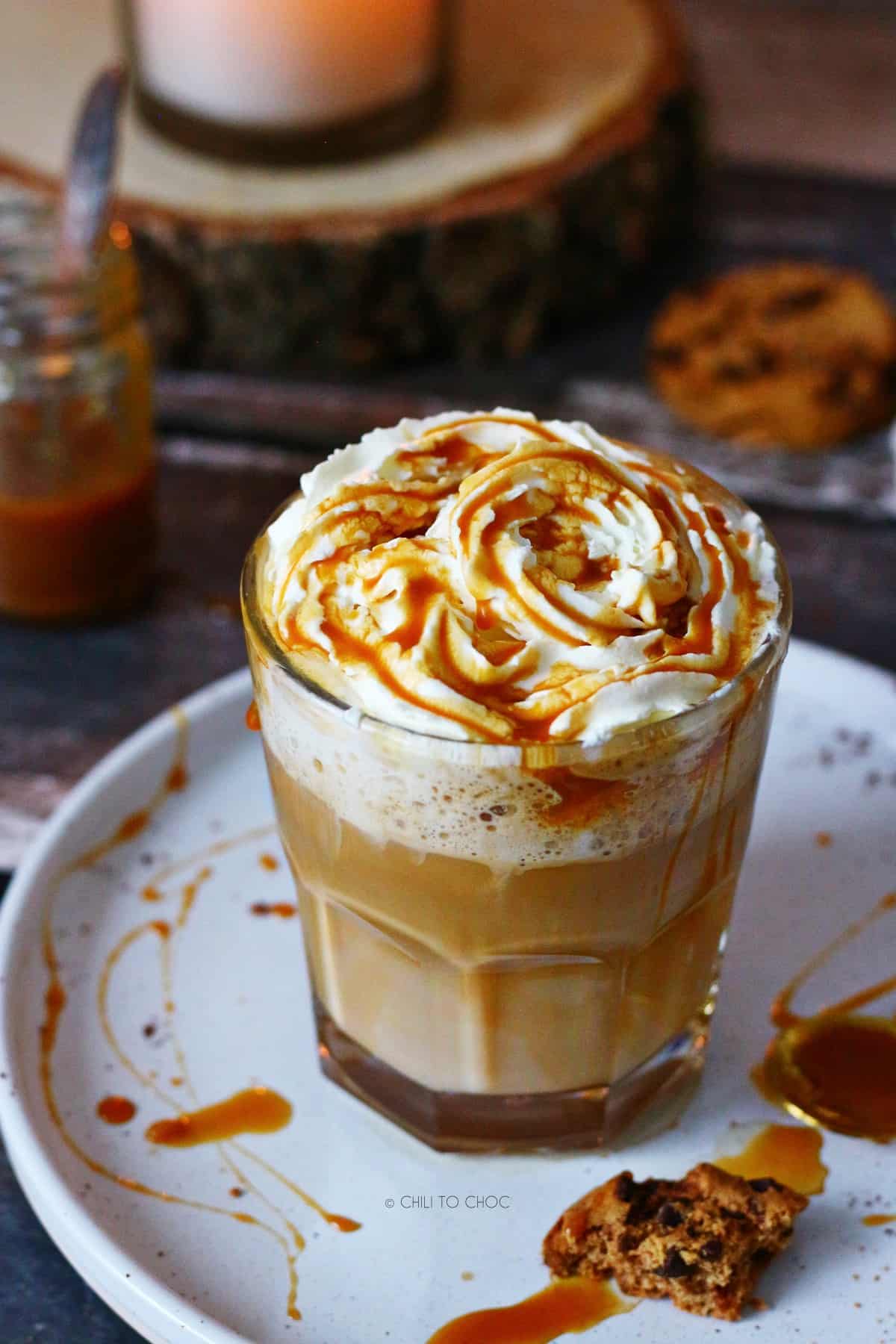 Variations
Craving a few different options perfect for these cold winter months? Try these:
Iced Caramel Latte: Follow the recipe the same way, except use cold milk instead of frothed milk and add some ice cubes. A good tip is to mix the hot coffee and caramel before adding the milk, so the caramel does not sit on the bottom.
Salted Caramel Latte: Replace your caramel sauce or syrup with a salted caramel version for a salty, sweet drink. You can find salted caramel syrups at your grocery store.
Caramel Macchiato (like Starbucks): This coffee drink is made with vanilla syrup rather than caramel syrup and then topped with a drizzle of caramel sauce. "Macchiato" means "to mark the foam" with the espresso shots, so be sure to add the coffee last on top of the milk foam and serve in a glass mug for a gorgeous latte.
Caramel Mocha Latte: Add your favorite mocha sauce or syrup for a sweet surprise.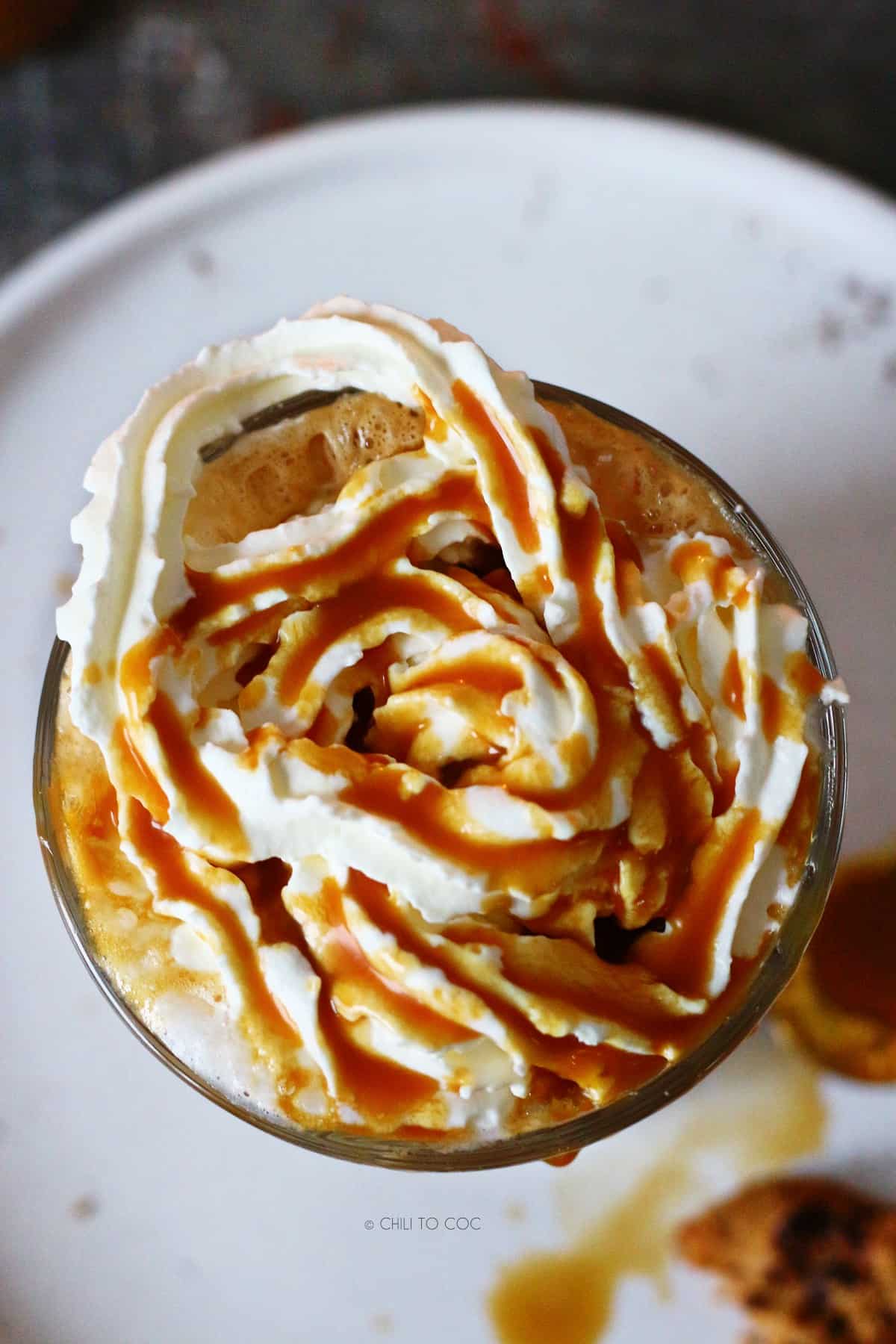 FAQs
What is the difference between a latte and a cappuccino?
Lattes and cappuccinos use the same ingredients, milk and espresso, but in different ratios. A latte recipe calls for a lot of milk to balance out the espresso with a small amount of foam on top. A cappuccino is less milk and more foam, producing a more robust espresso flavor.
Can I use instant coffee in this recipe?
Yes, you can add instant espresso to this latte.
Can I make Caramel Latte dairy free?
Absolutely! You can use any plant-based milk, like oat milk, almond milk, or hemp milk. Oat milk tends to froth better than other types of nut milk because it has a thicker consistency. If you see an extra creamy plant-based milk at your local supermarket, that will generally yield the best results!
How to make this latte decaf?
Just use decaf espresso!
Video
More Hot Drinks
Let's stay connected! Follow me on Instagram, Facebook and Pinterest for the latest updates. And subscribe to my YouTube channel for video recipes.
📖 Recipe
Homemade Caramel Latte
This delicious caramel latte recipe is perfect for chilly mornings and easy to make at home! You only need caramel syrup or sauce, hot milk, and espresso.
Print
Pin
Rate
Ingredients
2

tablespoon

caramel sauce

plus extra for drizzling

1

cup (230ml)

whole milk

40-60

ml (1.3-2oz)

espresso

depending on how strong you like it

whipped cream for topping
Instructions
In a glass, add the caramel sauce.

To another cup, add the milk and warm it in the microwave for 50-60 seconds until heated. It shouldn't be boiling. With a hand-held frother or whisk, foam the milk until thick froth forms. You can also shake the milk in a mason jar.

Pour this milk on top of the caramel.

Prepare espresso with your preferred method. You can pull a shot, make it on the stovetop with a Moka pot, brew in a coffee machine or even use instant coffee. If you are using instant coffee, mix 1 tablespoon of instant coffee with 2 tablespoon of hot water before pouring it in.

Pour this espresso over the milk. Mix lightly to dissolve the caramel but don't mess up the layers.

Top with whipped cream and drizzle some caramel sauce. Enjoy hot!
Notes
You can use either caramel syrup or caramel sauce. Keep in mind, if you are using caramel syrup you will need less amount as it is more potent in flavour.
I use an aerosol cream (also called squirty cream). The whipped cream comes in a can and is perfect for topping drinks. You can also add a dollop of homemade or store-bought whipped cream.
Brown or white sugar can be added according to your liking.
Read different ways to brew espresso to find the method that suits you best.
Here are some milk frothing methods that will make foaming milk a breeze.
Nutrition
Serving:
1
serving
|
Calories:
263
kcal
|
Carbohydrates:
36
g
|
Protein:
9
g
|
Fat:
10
g
|
Saturated Fat:
6
g
|
Polyunsaturated Fat:
0.4
g
|
Monounsaturated Fat:
2
g
|
Cholesterol:
38
mg
|
Sodium:
233
mg
|
Potassium:
445
mg
|
Sugar:
35
g
|
Vitamin A:
501
IU
|
Vitamin C:
0.3
mg
|
Calcium:
324
mg
|
Iron:
0.1
mg
Did you make this recipe?
Please leave a star rating and a review in the comments. You can also tag @chilitochoc on Instagram. I love hearing your feedback!
This post contains affiliate links. As an Amazon Associate I earn from qualifying purchases. For more information read the Privacy Policy.
PIN IT FOR LATER