You can whip up these Chili Oil Noodles in only 10 minutes! These spicy garlicky noodles take all your favourite flavours from the pungent garlic, hot chili, fresh green onions and toasted sesame seeds to combine them into one magical dish. Get ready to be blown away with this simple yet unforgettably delicious recipe!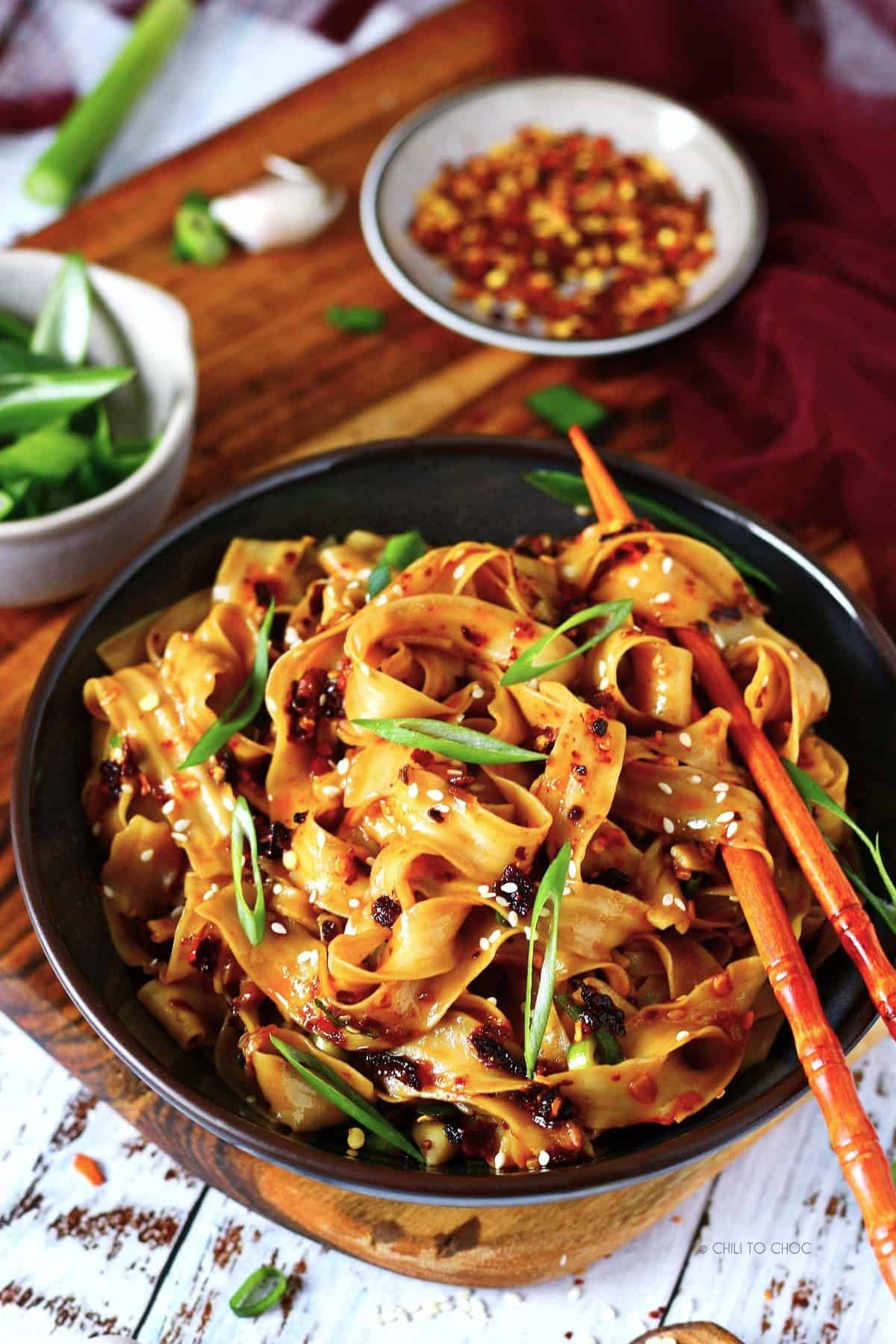 Recently, TikTok has been going crazy over Garlic Chili Oil Noodles. This noodle recipe involves pouring hot oil over a delicious mixture of fresh raw garlic, green onion, chili flakes, sesame seeds and sauces to create a mouthwatering masterpiece.
People worldwide are suddenly being introduced to this unique Asian dish, and they're falling in love. So, what's all the fuss about? A rich history, flavourful aromatics, and delectable texture make this meal unique.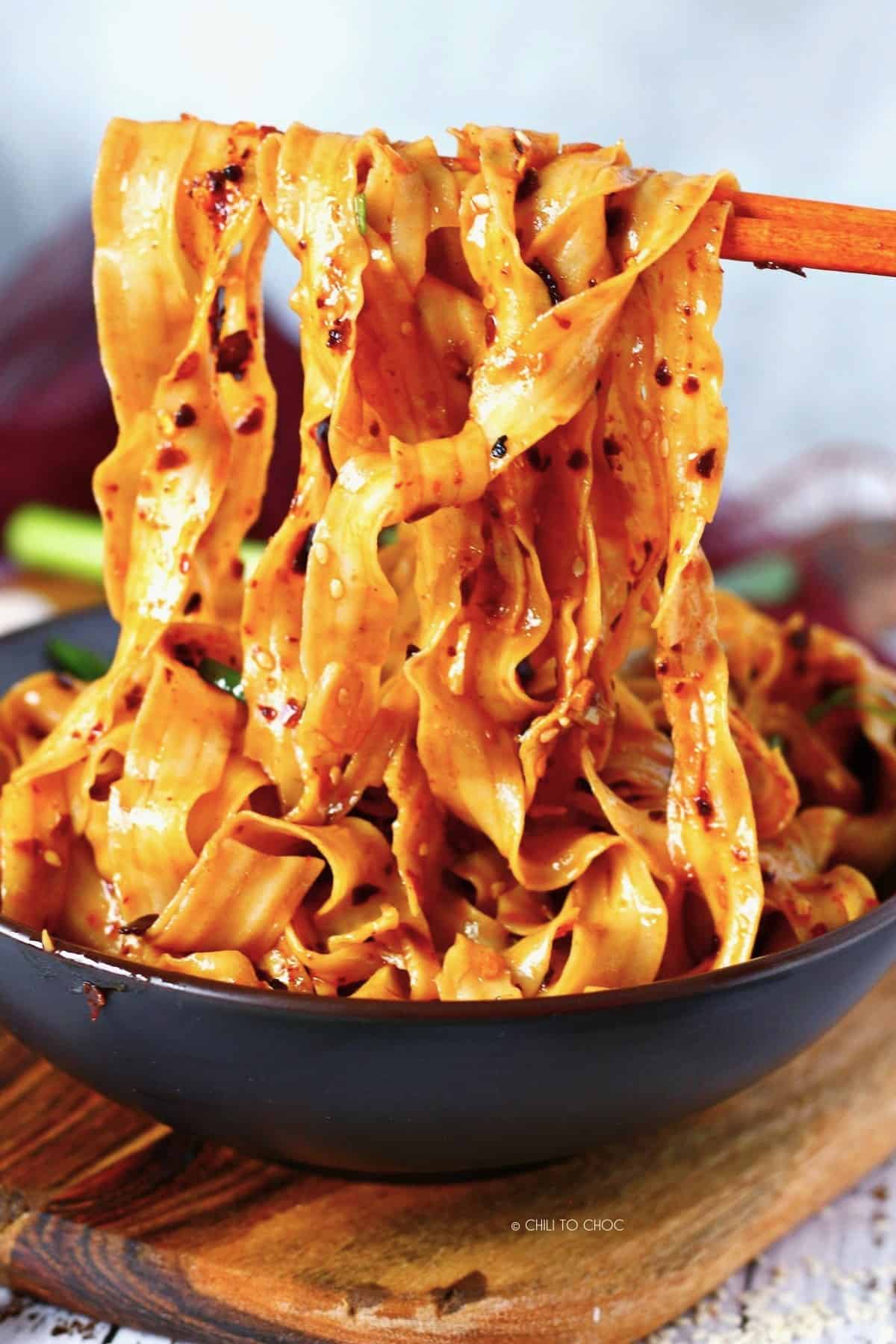 Table of Content
What Are Chili Oil Noodles
Even after seeing the TikTok videos, you may still be a little confused about what garlic chili oil noodles actually are. My crispy Parmesan Crusted Potatoes is also another one of the viral recipes.
This particular recipe is a play on You Po Mian – a popular dish from the Chinese province of Shaanxi.
The traditional recipe calls for biang biang, hand-pulled, noodles sprinkled with garlic and chili. Sizzling hot oil is then poured over the top to bring out the aromatics and create the sauce.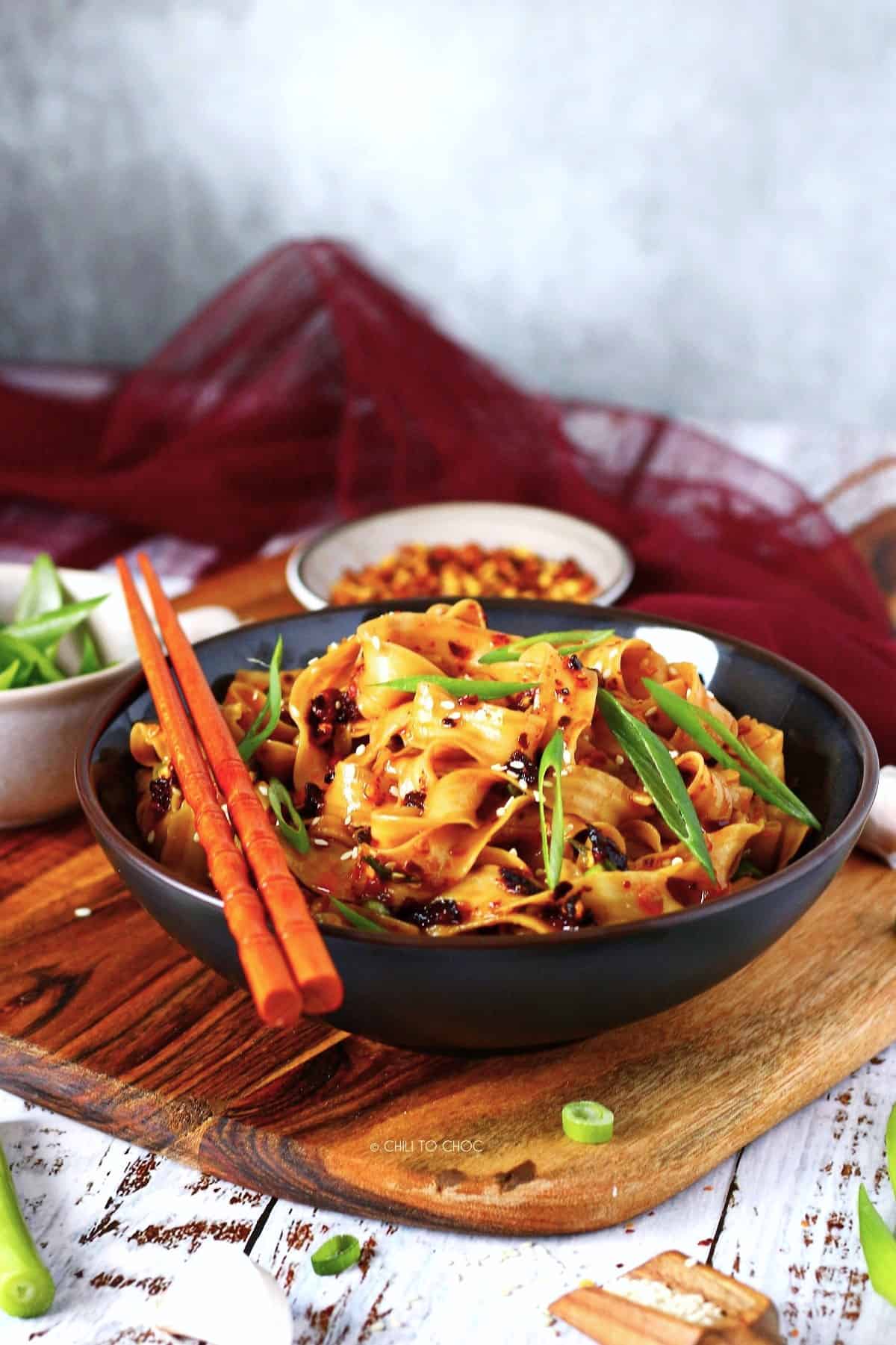 My version is relatively less oily, but equally delicious. In my recipe, I toast the aromatics with a smaller amount of oil in a pan, and then add the starchy water from the boiling noodles to make the sauce, plus adding the subtle kick of red chili powder and the nutty, earthy taste of sesame oil (amongst other things!).
The end result is a spectacular explosion of flavours that has no comparison.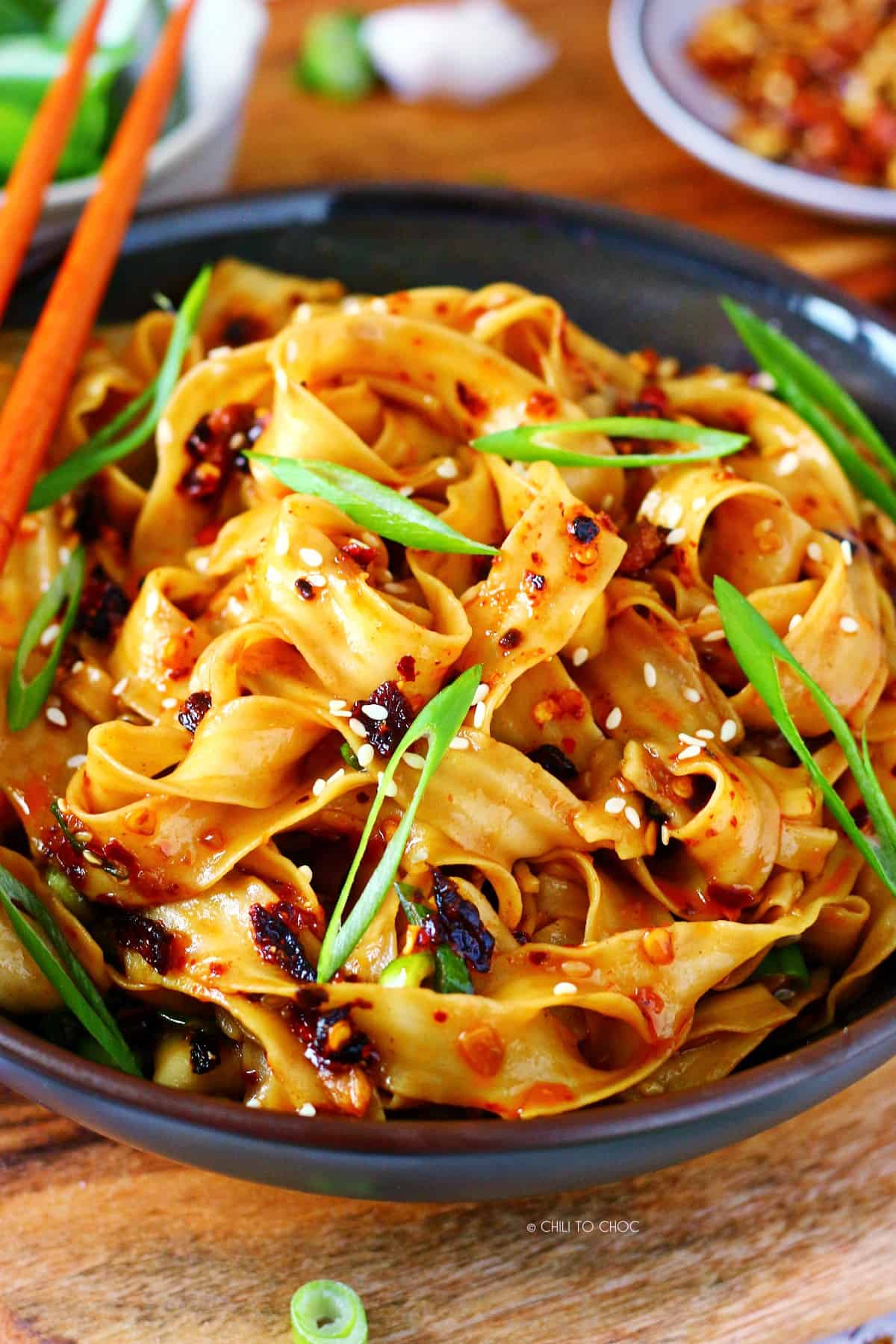 If you love the sharp flavour of garlic then you might like my Garlic Butter Fried Rice or Chicken in Garlic Sauce too! Or maybe you are craving some more hot chili? Then give this Chinese Chili Chicken Dry a go!
How Do Garlic Chili Noodles Taste
It is hard to describe the marriage of flavours and textures found in this chili garlic noodles recipe. But with each bite, you'll notice something different.
First, you'll experience the freshness of the scallions (green onions) paired with the nutty toasted sesame oil. Then, you'll pick up on the heat of the chili and zing from the sharp garlic.
The soy sauce and chicken bouillon powder all add umami to this scrumptious noodle dish. And if you finish off with the chili crisp you get the magnificent crunch from the rich aromatics.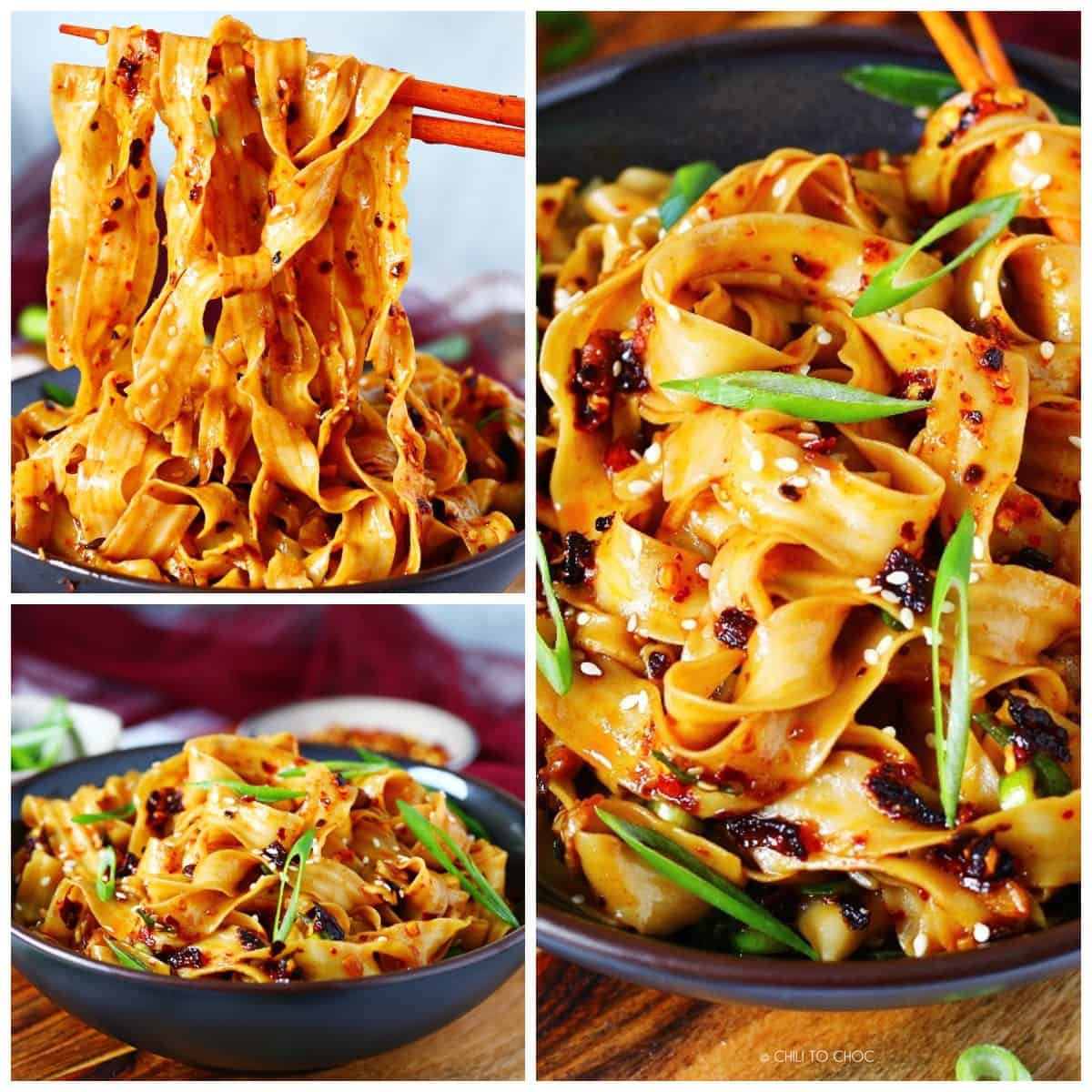 These spicy noodles also work as a great base for any protein or veggies. You can quickly turn this dish into a hearty dinner topping with some leftover rotisserie chicken or adding steamed veggies.
Now that your mouth is watering let's get to work on this fantastic recipe. These garlic chili oil noodles have a complex flavor but are extremely easy to make.
Ingredients & Substitutions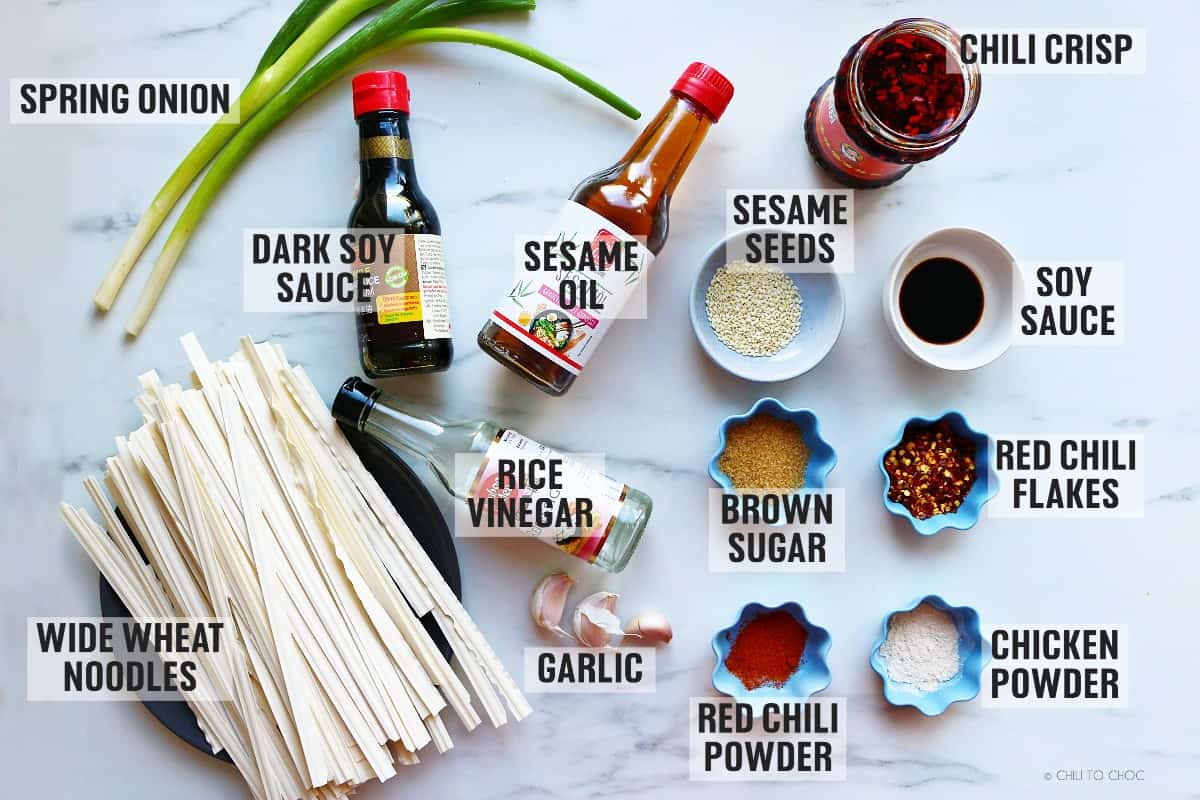 Noodles – Wide wheat noodles, also called knife cut noodles, are perfect for absorbing the flavourful garlic chili oil. But you can use any noodles or pasta you have at hand and even get fresh noodles from your local Asian market.
Red Chili Flakes - For a more authentic taste, get Korean chili flakes (Gochugaru), which are also milder. If you don't have an Asian grocery store nearby, you can use the standard red chili flakes (crushed red pepper) from your pantry.
Garlic – For the most potent and authentic taste, use only fresh garlic instead of garlic powder or jarred paste.
Green Onions – also called scallions, these add freshness to the dish. Make sure you separate the green part from the white ones. Make chili oil with the white part and garnish with the green tops!
Sesame Seeds - Use the white variety! They add a toasty flavor to the sauce. Feel free to skip if you are serving this to someone with a sesame allergy.
Red Chili Powder - Essential for the deep red color. You can substitute with cayenne pepper, smoked paprika or skip altogether.
Chicken Bouillon Powder - Adds a touch of umami to the dish. If you don't have it, crush some chicken stock cube in the same quantity.
Dark Soy Sauce - the thicker, more intense version of soy sauce with a strong soy flavour. It helps to add richness to the noodles and gives it the beautiful mahogany colour. If you have trouble finding dark soy sauce, you can substitute with oyster sauce or teriyaki sauce. The latter will alter the taste slightly though.
All-purpose Soy Sauce - it is the regular soy sauce and can be alternated with light soy sauce, they are saltier and add umami-ness. For a gluten free option use tamari.
Rice Vinegar - also called rice wine vinegar. You can use Chinese black vinegar or even white vinegar.
Brown Sugar - to balance the spice.
Toasted Sesame Oil – adds nuttiness. Don't confuse with the regular sesame oil which is used for cooking. The toasted sesame oil has a lower smoke point and will burn if cooked. It is only used as a finishing oil.
Chili Crisp – It is optional but adds an another notch of divine-ness to these noodles. I use the Lao Gao Ma Chili Crisp. It is a Chinese condiment made with fried chili, garlic, crispy fermented soy beans, onions and Sichuan peppercorns. It has a crunchy texture.
Neutral Oil – This will be the base of your chili oil. You can pick any neutral oil like vegetable oil, rapeseed oil, avocado oil, peanut oil, canola oil, sunflower oil and grapeseed oil.
See recipe card for quantities.
What Type Of Noodles To Use
Honestly, garlic chili oil tastes fabulous with any kind of noodles or flat pasta. So if you want, you can make it with whatever you have at hand: egg noodles, udon noodles, ramen, spaghetti or even fettuccine.
For a more authentic restaurant flavor, try to get your hands on the Asian lacey wide wheat noodles. They are called Dao Xiao Mian, aka knife-cut noodles. These chewy noodles soak up all the flavour.
You can also make this recipe gluten free by using rice noodles or rice sticks. They pair wonderfully with this sauce.
How To Make Garlic Chili Oil Noodles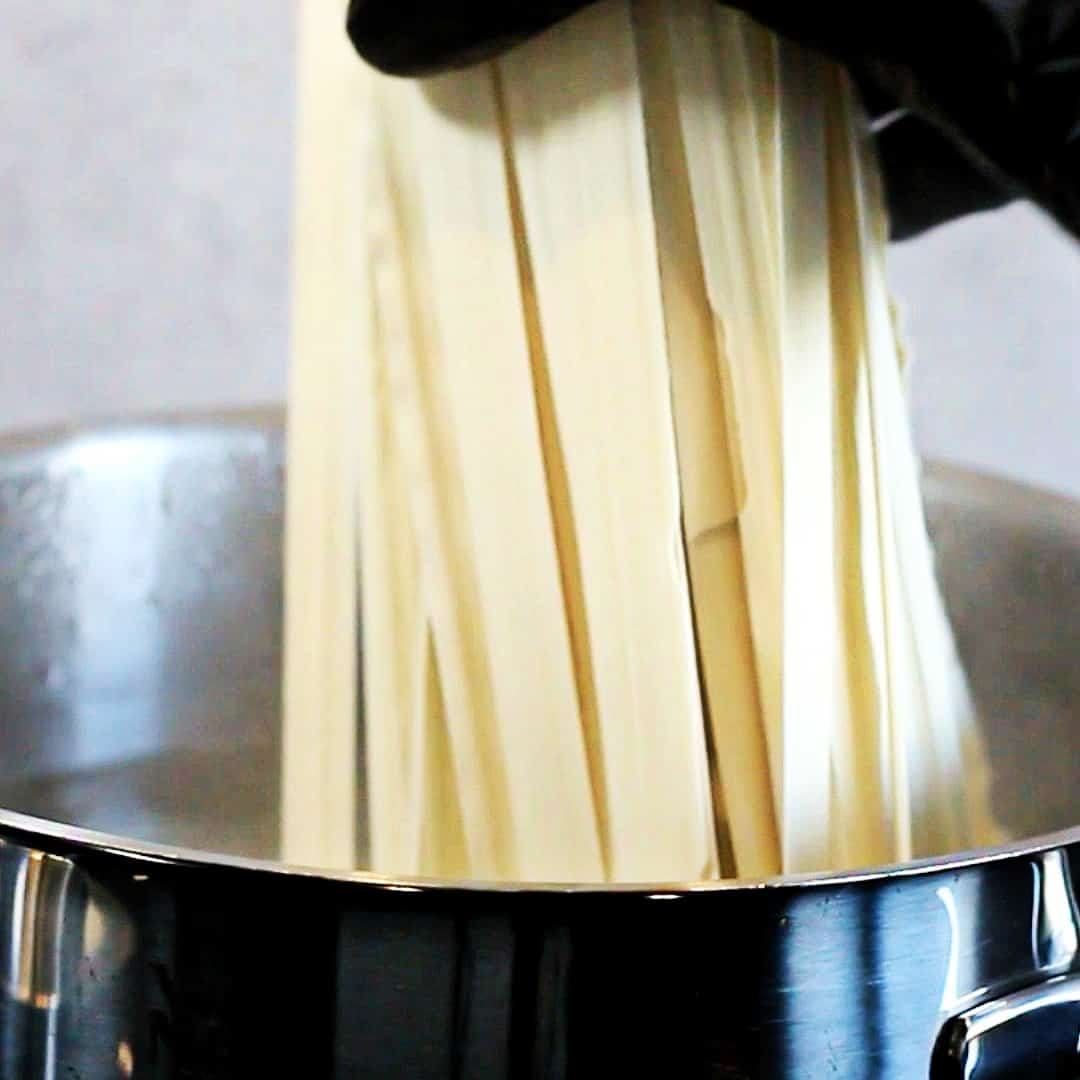 Add the thick noodles to boiling water and cook them till al dente. Reserve the starchy water to create a sauce later.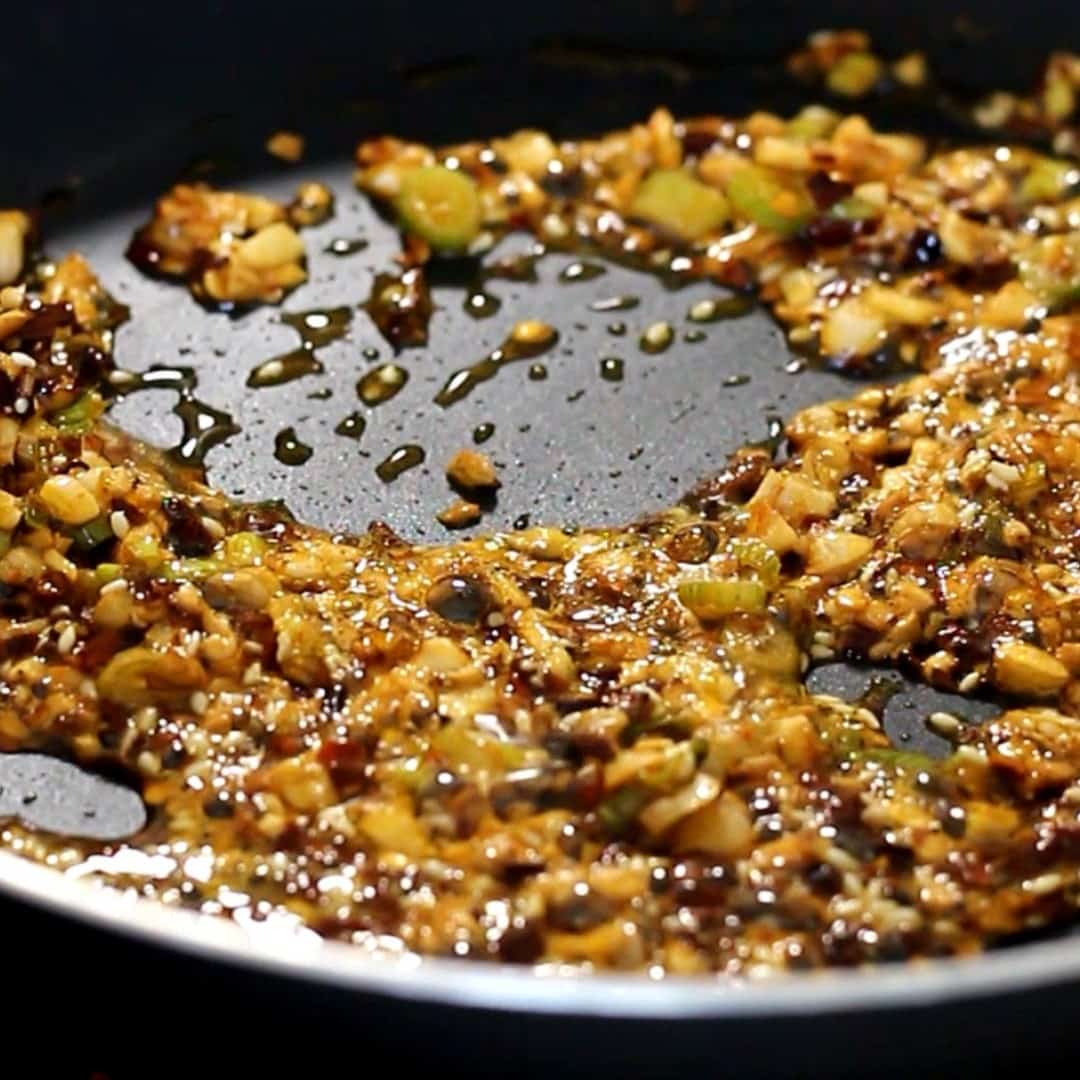 Fry the garlic, chili flakes, white part of green onion and sesame seeds till they are golden and crispy. Then cook the red chili powder for only a minute.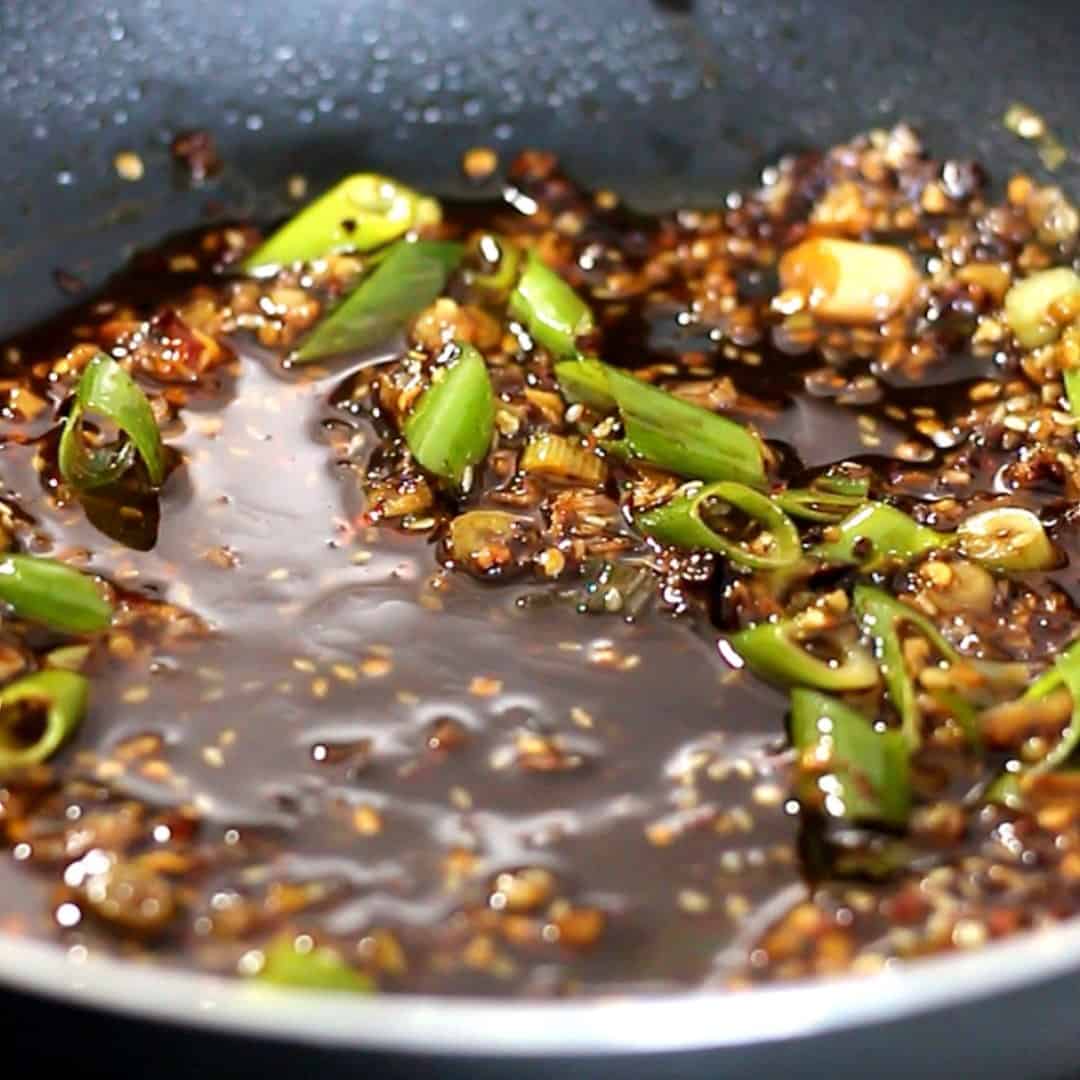 Pour starchy water and turn off heat. Add chicken bouillon powder, dark soy sauce, all-purpose soy sauce, rice vinegar, toasted sesame oil, green part of green onion and brown sugar.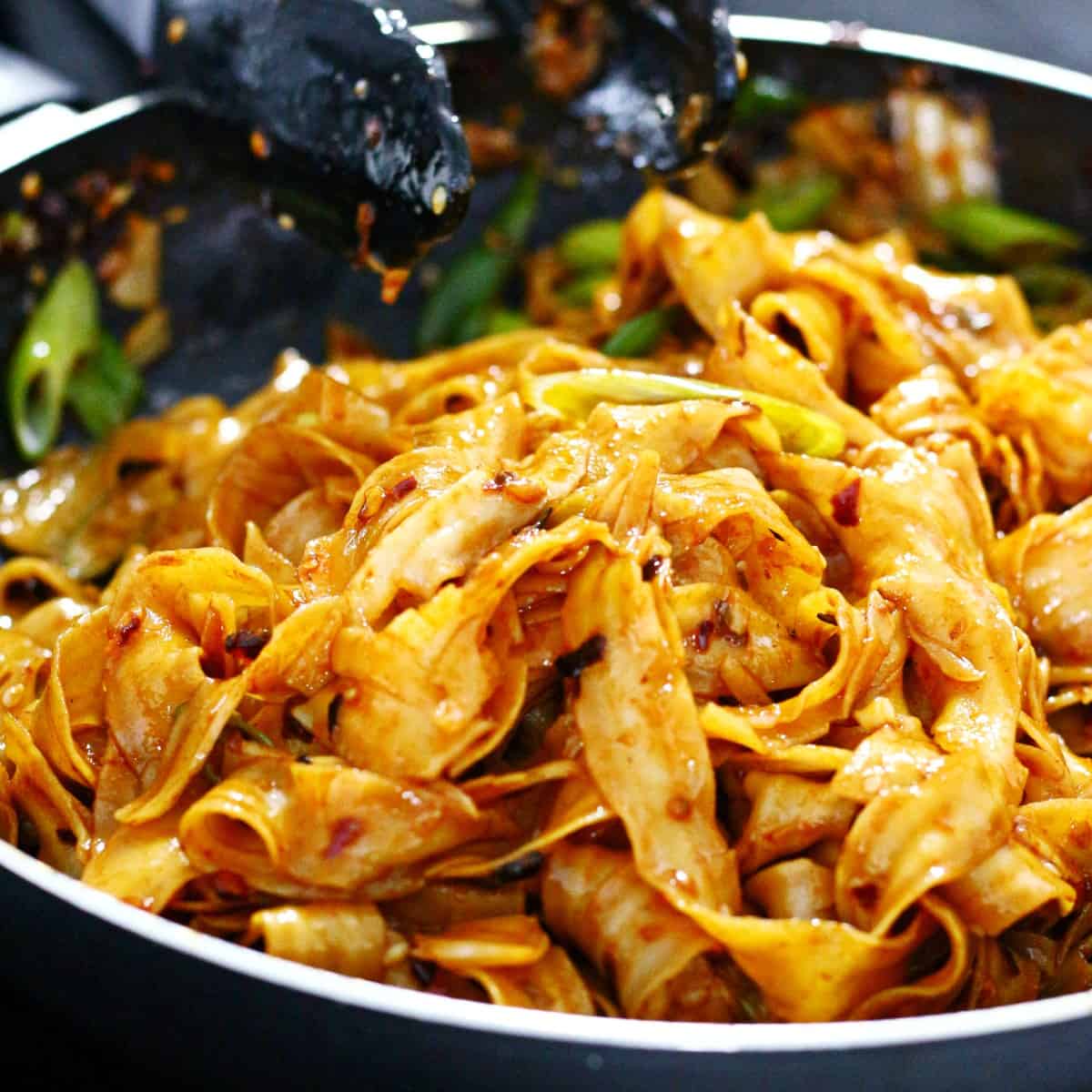 Add the noodles to the spicy sauce and mix well. Remove on a plate. Top with extra chili crisp and white sesame seeds. You can either serve it warm or make it a cold noodle dish.
Expert Tips
For these spicy chili oil noodles, you can adjust the amount of chili. If you have a high spice tolerance, you can add more by tossing in some Thai bird's eye chilies. Or you can reduce the amount of chili flakes and skip the red chili powder. Although, in my opinion, the kick of chili is the best part of this dish.
Keep an eye while making your chili oil. Don't burn the garlic or chili flakes. They will make the noodles taste very bitter.
Do not overcook the noodles. Time it with your garlic chili oil. If you cannot, then rinse the noodles after draining and toss them with a tiny bit of oil to avoid sticking. Keep aside till you are ready to mix them in.
If you are cooking on a glass-top stove, make sure you remove the pan from the hot burner after turning it off. Otherwise, your chili oil will keep cooking.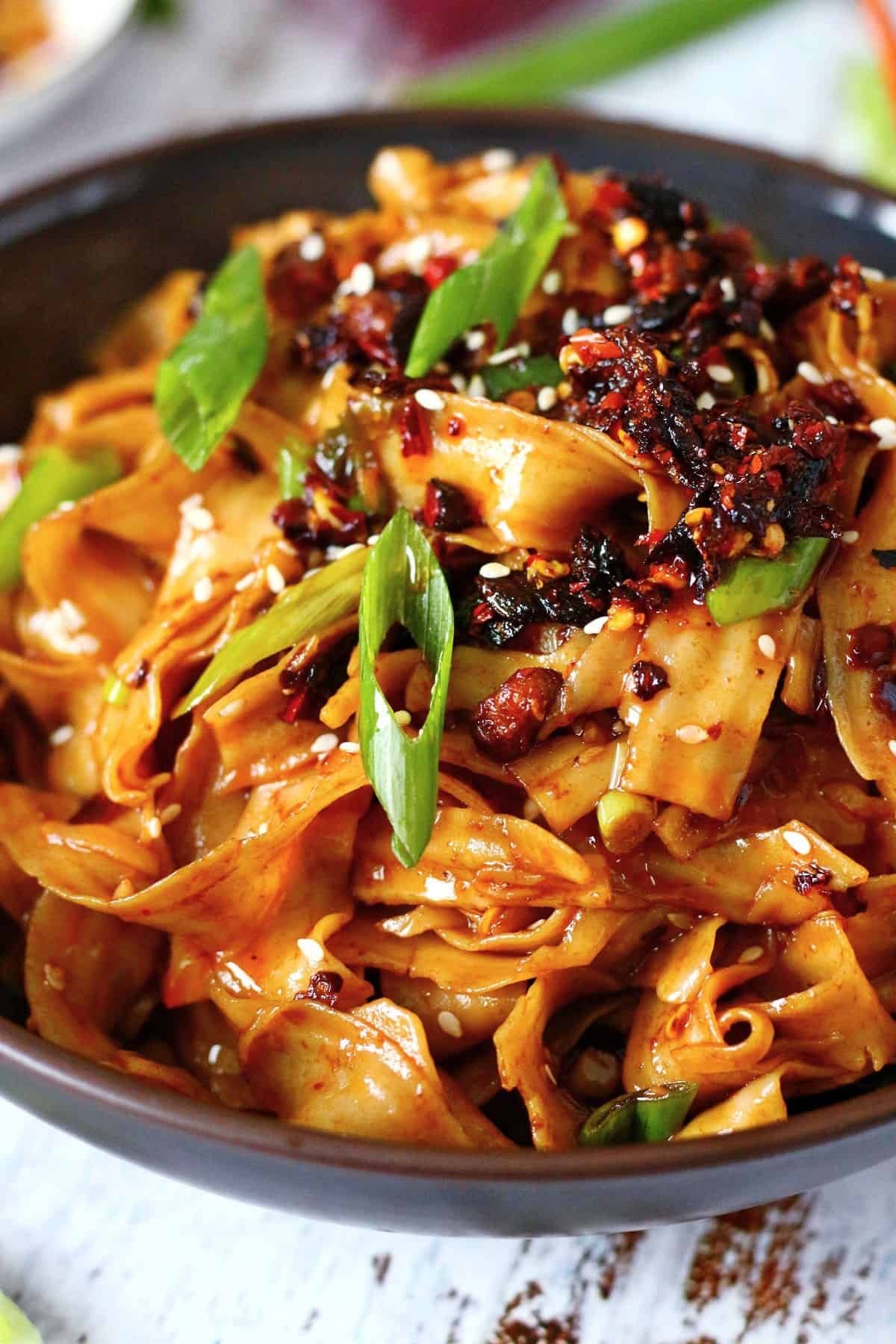 Variations
Add In Veggies: Fresh stir-fried veggies like carrots, mushrooms, zucchini, leeks add nutrients and change up the flavour. You can also include bok choy, Chinese broccoli or bean sprouts.
Add Protein: This chili oil noodles dish is vegetarian. You can make the meal heartier by incorporating chicken, shrimp, minced meat or beef. For plant-based protein, try adding tofu or tempeh!
Switch Your Toppings: Consider topping your noodles with fresh cilantro (coriander), basil or ginger. Experiment to find what you like best. Fried egg on top will taste great too!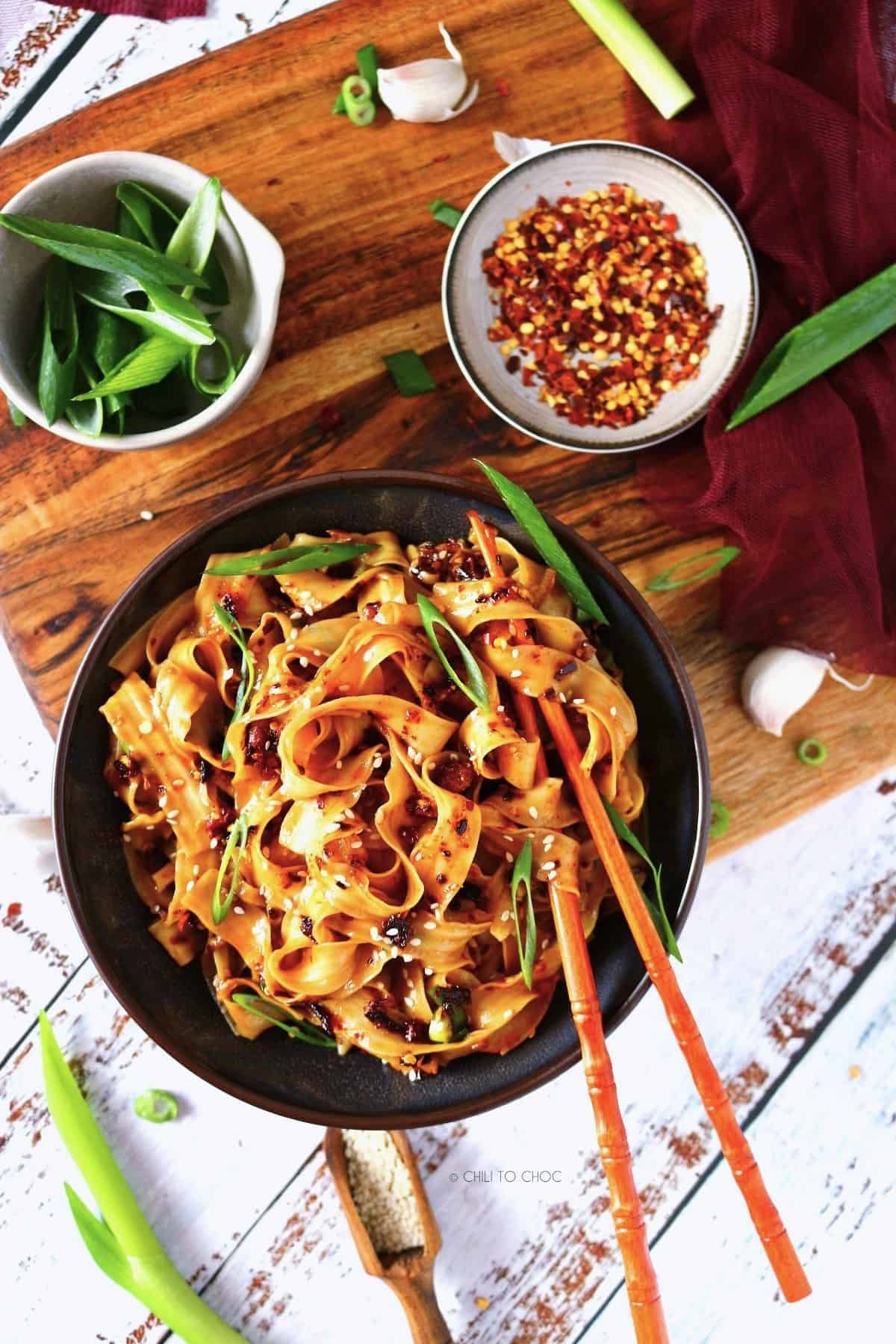 Hot Oil Method: The authentic version of this garlic chili oil noodles is pouring hot oil over aromatics to magnify the flavour.
For this method, you'd require around ¼ cup of oil in this same recipe. Heat it in a small pot until sizzling and test if bubbles form around a wooden chopstick. Place your boiled noodles in a heat-safe bowl, top with all the other ingredients including seasonings and pour the hot oil. Mix and enjoy!
Serving Suggestions
After cooking up a batch of garlic chili oil noodles, it's pretty hard to resist devouring them right then and there. Feel free to do so because this is a dish that is incredible when served hot.
Of course, the noodles are also pretty delightful when they're cold, so they make for fantastic leftovers. This is a meal that stands on its own and doesn't need any sides to complement it.
It can be garnished or topped with sliced green onions and chili crisp, however, to add extra harmonizing flavor and a fabulous crunch.
You can also pair these Chili Oil Noodles with Chinese Salt and Pepper Chicken Wings! Or some sweet and savoury General Tso's Shrimp on the side will make a fantastic combo too.
Storage Instructions
You can make these chili oil noodles in advance too. Just whip up the spicy chili oil with all the aromatics and seosanings and keep the sauce in the fridge for upto 5 days! Then, whenever you are in the mood, toss in the noodles and enjoy.
Store leftovers in an airtight container in the fridge for up to 2-3 days. Eat cold noodles or warm them in a microwave.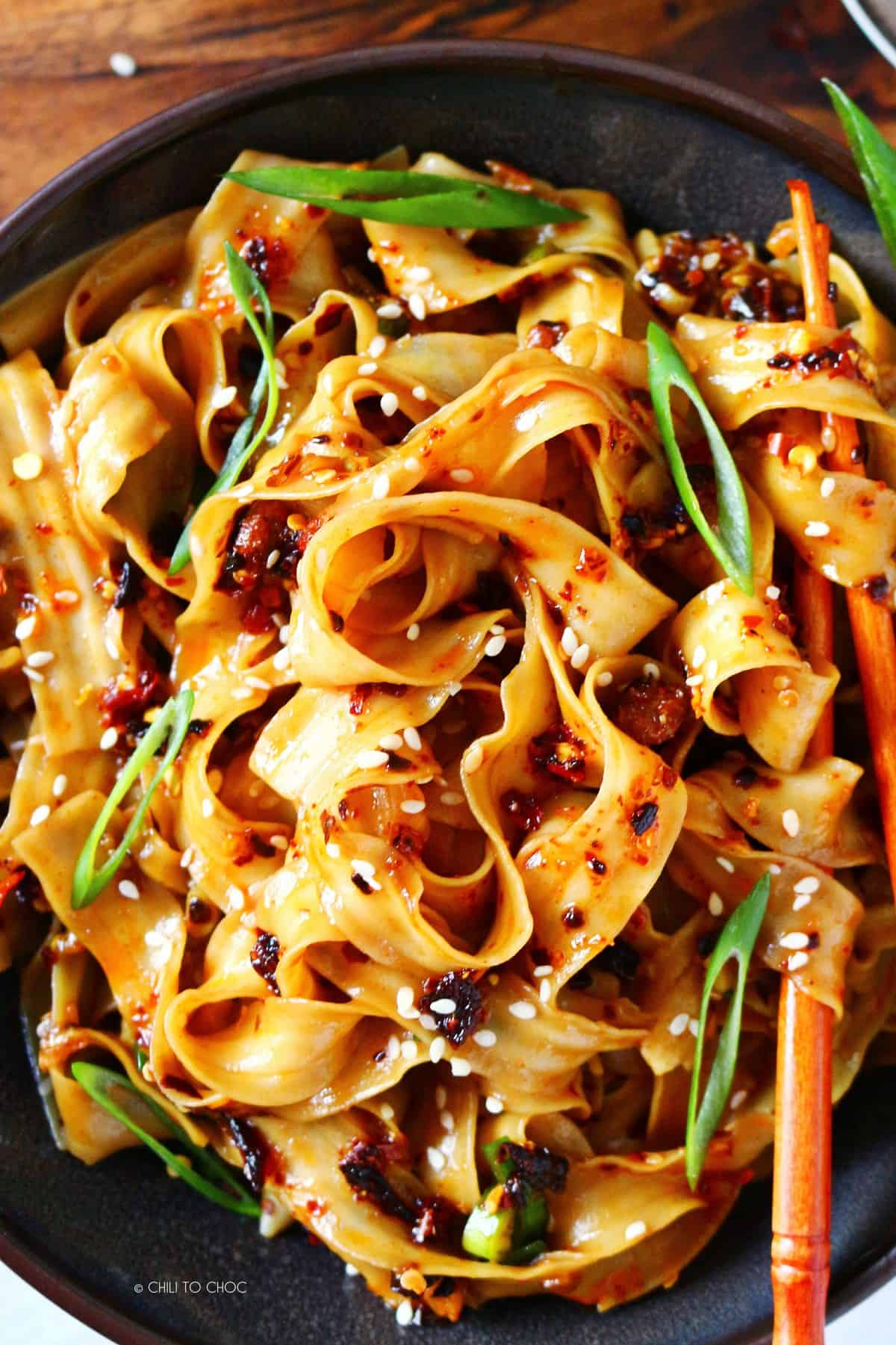 FAQs
Can I reduce the spice in these Garlic Chili Oil Noodles?
If you're not a fan of dishes that are too spicy, I recommend simply reducing the amount of red pepper flakes that you use when cooking and omitting the chili powder.
What is the difference between chili oil and chili crisp?
Chili oil mostly is only infused with different kinds of chili peppers. Whereas, chili crisp is an oil-based condiment that incorporates crunchy bits of chili, garlic, onion, peppercorns and soybeans. The ingredients may differ slightly from brand to brand. My fave is the Lao Gan Ma Chili Crisp.
Can I use store-bought chili oil in this recipe?
Yes definitely! To your pan add the store-bought chili oil followed by garlic, sesame seeds and green onions. Then follow the rest of the recipe as it is.
Video
More Noodle Dishes
Did you try this and love it? Please rate the recipe or leave a review in the comments section. I'd love to hear from you!
📖 Recipe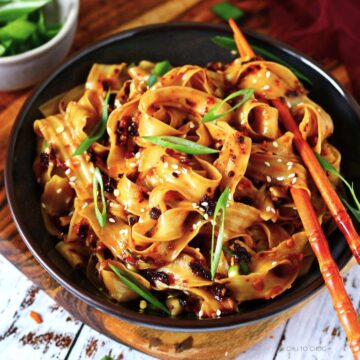 Garlic Chili Oil Noodles
Make these quick and easy Chili Oil Noodles in only 10 minutes! These spicy garlicky noodles take all your favorite flavours and combine them into one magical dish.
Print
Pin
Rate
Ingredients
150

g (5 oz)

wide wheat noodles

aka knife cut noodles

2

tablespoon

oil

3

cloves

garlic

finely diced

2

green onion (scallions)

green and white part sliced separately

3

teaspoon

red chili flakes

1

teaspoon

white sesame seeds

untoasted

⅓

teaspoon

red chili powder

½

teaspoon

chicken bouillon powder

2

teaspoon

dark soy sauce

1

tablespoon

all-purpose soy sauce

or light soy sauce

1

teaspoon

rice vinegar

or white vinegar

½

teaspoon

brown sugar

2

teaspoon

toasted sesame oil
Topping
1-2

teaspoon

chili crisp

optional

green part of spring onion

white sesame seeds
Instructions
Start boiling the noodles according to the package instructions until al dente. Reserve ¼ cup of the starchy water.

Heat up oil in a pan. On medium heat, add garlic, the white part of the green onion, red chili flakes, and sesame seeds. Toast for a while until the garlic gets golden, and the green onion gets crispy. Now add the red chili powder and stir for a minute only. Keep an eye and don't burn anything, or it will taste bitter. This is your chili oil.

Pour the reserved starchy water to stop the cooking process. Then, turn off the heat and remove your pan if it is a glass stovetop so that the aromatics do not cook any further.

Add the chicken bouillon powder, dark soy sauce, regular soy sauce, rice vinegar, toasted sesame oil, brown sugar, and the green part of the spring onion. Mix.

Try to time the cooking of the noodles with the spicy sauce so that you can immediately add the hot noodles. Toss in the noodles till they are coated well with the sauce. Take out on a plate.

Top with chili crisp, sesame seeds, and the green part of spring onion, and enjoy!
Notes
You can use any any kind of thick or thin noodles like egg noodles, udon noodles, ramen, or even wide rice noodles for a gluten free option.
Dark soy sauce adds the intense soy flavour and deep colour. While all-purpose or light soy sauce adds saltiness. Please don't mix up the two.
Toasted sesame oil has a lower smoke point and is used as a finishing oil. Don't confuse it with regular cooking sesame oil.
If you have them, use Korean chili flakes (Gochugaru) for a more authentic taste. Otherwise, standard crushed red pepper will work in a pinch.
Keep an eye while making your chili oil. Don't burn the garlic or chili flakes. That will make the noodles taste very bitter.
Nutrition
Serving:
1
g
|
Calories:
333
kcal
|
Carbohydrates:
62
g
|
Protein:
13
g
|
Fat:
6
g
|
Saturated Fat:
1
g
|
Polyunsaturated Fat:
3
g
|
Monounsaturated Fat:
2
g
|
Cholesterol:
0.1
mg
|
Sodium:
686
mg
|
Potassium:
304
mg
|
Fiber:
2
g
|
Sugar:
2
g
|
Vitamin A:
1108
IU
|
Vitamin C:
4
mg
|
Calcium:
71
mg
|
Iron:
4
mg
Did you make this recipe?
Please leave a star rating and a review in the comments. You can also tag @chilitochoc on Instagram. I love hearing your feedback!
This post contains affiliate links. As an Amazon Associate I earn from qualifying purchases. For more information read the Privacy Policy.
PIN IT FOR LATER